This clementine mojo accompanies the smoky potluck pintxos along with our romesco sauce. I did this video separately to have a faster turnaround time. Check out this tasty sauce that does great with pork!
---
Ingredients
1/4 cup olive oil
8 cloves garlic, sliced thinly
3 tablespoons clementine (or orange) juice
1/2 cup lime juice
1/3 cup water or juice/drippings from pork
1 teaspoon cumin
1/2 teaspoon oregano
1 teaspoon salt
black pepper to taste, about a teaspoon
Instructions
Heat olive oil in small saucepan over medium heat until shimmering
Add garlic slices and cook until fragrant and starting to turn a pale golden color. Do not burn!
Add remaining ingredients and bring to boil, about 3 minutes
Allow to cool, refrigerate, and serve
Nutrition information
Serving Size: 8g small spoonful
Calories per serving: 14
Fat per serving: 1.4g
Saturated fat per serving: 0.2g
Carbs per serving: 1g
Protein per serving: 0g
Fiber per serving: 0g
Sugar per serving: 0g
Sodium per serving: 58mg
Trans fat per serving: 0g
Cholesterol per serving: 0mg
https://explorers.kitchen/recipes/clementine-mojo/
Printed from: https://explorers.kitchen
Adapted from Epicurious.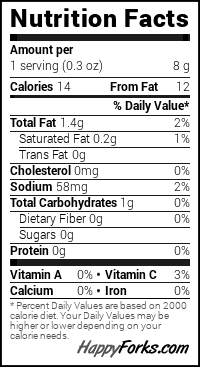 Tasting and lessons learned
This was a super easy recipe to make and is a nice thing to have in your repertoire. I had always thought a mojo was more involved, but this is nothing to be intimidated by.