This romesco sauce is an accompanying recipe to the potluck pintxos we posted for the holidays. You can watch the video of this recipe here, but be sure to check out the recipe for those smoky pork shoulder bites.
This recipe was adapted from Serious Eats.
Romesco sauce for potluck pintxos
Ingredients
2 slices of sandwich bread cut into 1-inch cubes
1/2 of a 14.5oz can of diced tomatoes (preferably Muir Glen)
1/2 head garlic
1/2 cup smoked almonds
7 small sweet peppers or 2 red bell peppers
1 tablespoon smoked paprika
1 teaspoon salt
1/8 teaspoon cayenne
1/4 cup olive oil
2 tablespoons white wine or sherry vinegar

Optional: 1/4 cup pork juice/drippings
Instructions
Preheat oven to 375F
Place almonds, bread, and garlic on a parchment-lined sheet to toast
Toast in oven until fragrant, about 10 minutes
Remove bread and almonds, but return garlic to oven to continue roasting until tender, about 20 more minutes
Meanwhile, char the peppers on a charcoal grill or directly on the burner of a gas stove
Place charred peppers in and cover tightly with plastic wrap for 20 minutes to allow the skin to loosen in the steam
Remove seeds, stem/core, and skin
Peel garlic
Add all ingredients to food processor or blender and process until smooth
Nutrition information
Serving Size: 17g spoonfuls
Calories per serving: 20
Fat per serving: 1.5g
Saturated fat per serving: 0.2g
Carbs per serving: 2g
Protein per serving: 0g
Fiber per serving: 0g
Sugar per serving: 1g
Sodium per serving: 64mg
Trans fat per serving: 0g
Cholesterol per serving: 0mg
https://explorers.kitchen/recipes/romesco-sauce/
Printed from: https://explorers.kitchen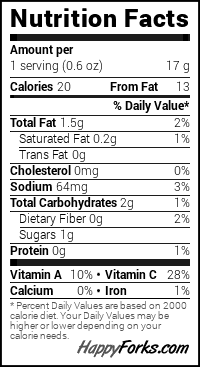 Tasting and lessons learned
This was a lovely addition to my potluck pork pintxos! The nutty flavors from the almonds were very pleasant and the various smoked ingredients lightly complimented the smoked pork shoulder bites. The vinegar is essential in this recipe because it helps to cut through some of the fattiness of the pork shoulder.
In the future, I would cut this batch in half or smaller. It makes a lot of sauce and only keeps in the fridge for about 5 days. I haven't tried freezing it, but that may be an option in the future.